we will announce our opening as soon as final inspections are completed.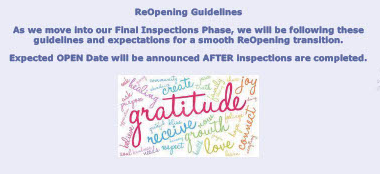 A big big thank you!
We are deeply touched by the support you have given us through this unprecedented time, as it stands our waitlist is over 275 guests who have been waiting 3+ months for our return. WE ARE HUMBLED! We would not have been able to make it through this without YOU!
Patience and Understanding will be EXPECTED AND APPRECIATED!
As we finish final inspections, WE will begin calling YOU to schedule in accordance with our waitlist that was created when we cancelled your reservations from July, August, and so forth.
PLEASE KEEP IN MIND THAT WE CANNOT ACCOMMODATE 275 GUESTS ON THE FIRST DAY, WEEK, OR 2 WEEKS WHEN WE REOPEN. IT WILL TAKE US THE NEXT 30 DAYS TO SCHEDULE EVERYONE WHO IS WAITING. We want to deliver realistic expectations as we move through the ReOpening Phase.
We are humbled by the numerous calls, text messages, chats and emails. We miss all of you as well; you are family to us. Your thoughts and prayers have carried us through. We are receiving 100+ calls/messages a day. We are expediting this process as fast as we can. It is taking us over 72 hours to return calls/messages; we appreciate your patience. Please be mindful of behaviors such as yelling, cussing, repeated calling and messaging more than once in 24-72 hours will not make this process go any faster. We understand that you want to make reservations and are excited to see us (we are too!); however we will be calling you to set up your reservations so that the process is expedited.
Online booking will remain closed through January.
If you have an upcoming reservation for December, IT WILL BE HONORED. We will not be cancelling reservations of one guest to squeeze in another.
In the event that you will need to cancel a reservation, a 50% re-booking deposit will be collected prior to rescheduling your reservation. This deposit will be applied to your reservation total amount due.
WE ARE EXCITED TO SEE YOU IN OUR 100% COMPLETELY UPDATED SPACE CUSTOM-BUILT JUST FOR YOU!
FOR THE MOST CURRENT INFORMATION FOLLOW US ON FACEBOOK AND INSTAGRAM.
Located in the SOUTH Kirtland Business District inside the New York Plaza, Synergy Salon brings you an extensive line of customized quality services and treatments via our professionally trained team designed to synergize YOU inside and out through our
EU-FOR-AaaHaa experience.
Our friendly and knowledgeable staff are waiting to hear from you. Contact us for an appointment.


With exclusive use of
EUFORA products, Synergy Salon offers the highest quality customized experience at affordable rates.
EUFORA....
''focuses on Clean Beauty which is more than just ingredients within the bottles.
It is the MINDFUL METHODS used to formulate Planet-Friendly, Sustainable, and Human Kind Ingredients focused on safety, sustainability, ethics and transparency.
It's about minimizing our footprint on this earth and forging a path that leads to GOOD GLOBAL KARMA.
Eufora has embraced this philosophy since our founding, and, in striving for transparency, has established a three pillar Clean Beauty platform rooted in responsibility. Caring for people & planet since 1997.''

''
An exceptional performing, in-salon, custom-blended service.
Instantly address and restore health, vibrancy, manageability, elasticity, and vitality to hair and scalp.
This professional use only system is composed of "super-charged" treatments that work from the INSIDE-OUT.
Tested and approved by Professional Salons.
Eufora PROTREATMENT is Gluten Free and Vegan.
.''
Synergize Points to Cash Loyalty Program
You are automatically enrolled already.
Points are added to your account when you check out.
Every $$ spent = 1 point
Service AND Retail purchases
1000 points - Guest referrals
500 points - Online booking
100 points - Pre-booking at salon
REWARDS:
2500 POINTS SYNERGIZES INTO $25 GIFT CARD
5000 POINTS SYNERGIZES INTO $50 GIFT CARD